Pressure Washing Services in Nashville, Brentwood, Franklin, Hendersonville, Murfreesboro, Huntsville and surrounding areas!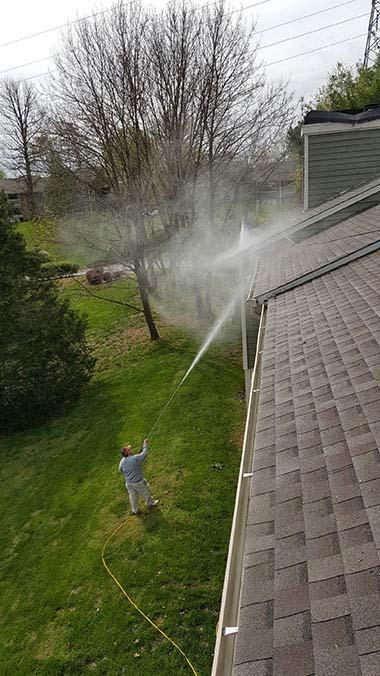 Allbrite Cleaning Systems has years and years of experience in the proper application of pressure washing to achieve the best possible results. Pressure Washing offers a multitude of advantages:
Preventive Maintenance
By keeping your home clean with regularly scheduled pressure washing, you reduce the opportunity for rot and decay to cause aesthetic problems as well as structural damage, saving you money by avoiding the need for expensive repairs.
Personal Protection
Mold, mildew algae and other contaminants can become a serious health risk if not addressed properly. Pressure washing prevents the growth of these harmful bacteria. Pressure washing driveways and walkways also keeps surfaces from becoming slippery, thus reducing slip and fall injuries.
Curb Appeal
Having your driveway, walkways and home pressure washed is the most cost-effective way to increase your property's overall aesthetic appeal. It shows pride of ownership and tells potential buyers this is a well kept home. Commercial properties benefit from the positive image and professional appearance portrayed by a well-cleaned facility.
Eco-Friendly
Power washing eliminates the need to use harsh and/or abrasive chemicals. Even when chemicals are needed, Allbrite Cleaning Systems uses detergents and other cleaning substances that are eco-friendly.
Residential Power Washing:
Allbrite Cleaning Systems uses power washing to deliver amazing results in cleaning, from patios to garage floors and driveways, siding to roof washing and so much more. Power washing can also be used to clean those hard-to-reach exterior windows. You'll be amazed at what power professionals can do to an aggregate driveway!
Commercial Power Washing:
From awnings to windows, walkways to building fascia, Allbrite Cleaning Systems brings a new level of clean to commercial facilities. From parking areas to entrance walks and so much more, we'll give your retail establishment that pristine look that attracts and retains customers.
Industrial Power Washing:
Heavy-duty equipment, shop floors, work areas: no matter how deep the dirt and grime, Allbrite Cleaning Systems gets it clean. We use the most effective cleansers in conjunction with the best available power washing equipment to get a deep clean you simply can't get with any other process.